TOP 7 FLOWER THAT YOU CAN EASILY GROW IN YOUR BACKYARD
In today's busy technological world, it is necessary to bring out some time for yourself. For a better and healthy lifestyle, one needs to get some "me" time. The best way to have some quality time with yourself is to indulge in your passion, and if that passion is gardening, then you should definitely follow it, and I am here to give you the seven topmost flowers that you can easily grow in your backyard. Gardening not only helps to rejuvenate oneself, but it also spreads happiness in the air.
ROSE, the flower of love. Rose is a perennial shrub with sharp erected prickles, and a huge variety to choose from makes it the perfect choice for backyard gardening. They need a minimum of four to five hours of direct continuous sunlight. However, there are other varieties that may grow in a partially shaded area too. It requires organically rich soil with a good drainage system. Weekly watering is enough in temperate climates, but regular watering is needed in dry and hot soil. Dormant roses can be planted in spring whereas potted plants can be planted anytime between spring and fall. It requires light pruning, and as for fertilizer you may add used tea leaves around the roots.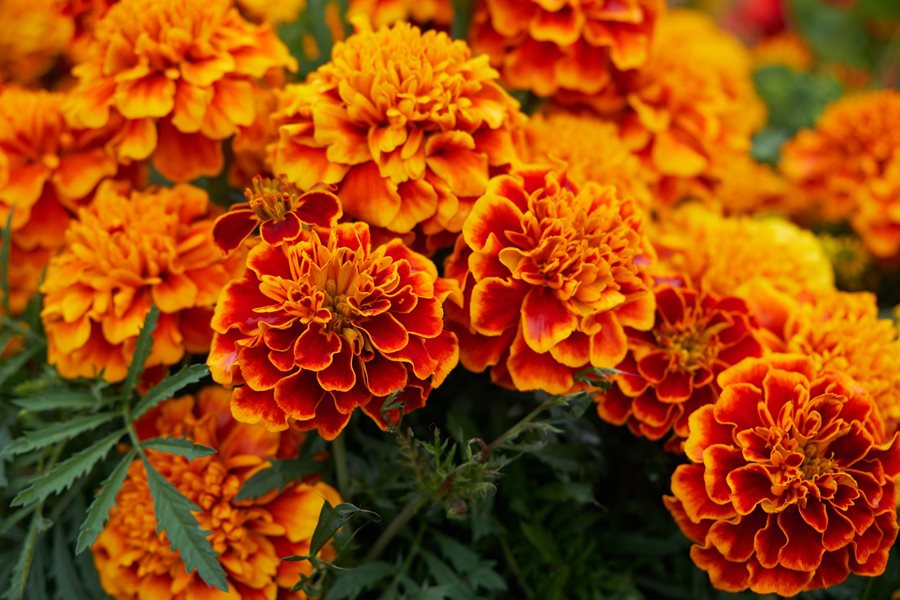 Marigold, no fuss and everyone's favourite flower.
Marigold plants are highly adaptable and low maintenance flower. They just need well-drained soil and full sun exposure for about 6 hours. No fertilization required after sowing the seeds, no deadheading needed only the dead blooms to have to be removed from time to time. They bloom only in eight weeks and thus, makes it an easy, delightful project for newbies. The seeds can be sown early in spring or in warmer climates it may be sown in autumn. They usually grow up to 10 to 36 inches tall with flowers of about 5 inches in height.
Hibiscus comes next to my mind.
To add a tropical touch to your backyard, you must grow Hibiscus plants. Tropical hibiscus needs moist and well-drained soils, whereas perennial hibiscus needs moist soil which never drains. For blooming flowers, you must give six to eight hours of direct sunlight to the tropical hibiscus. Water the plants regularly but do not make the soil soggy. Pruning needs to be done only in summer—height- 3 to 7 feet and 2 to 3 feet wide.
Dahlias are a hugely popular colourful flowering plant in India.
In India, it is best grown in winter. It requires morning sunlight. After blooming of flowers, it requires watering once or twice in a week. Dahlias can be grown in any moist soil with proper drainage. To see large flowers bloom place the plants 18 inches apart from each other. Height- 5 feet tall.
Ixora or jungle flame is common in southern India.
Ixora needs full sun exposure for better blooming but can also be grown in partial shade. Regular pruning reduces flourishing. The Ph-5 acidic soil needs to be kept moist all the time, but in winters the watering can be reduced—height- 3 feet tall and 3 feet wide.
Crape Jasmine or the pinwheel flowered plant is a common plant in south-east India.
This evergreen shrub can be grown from spring to fall that is March to October. Being a tropical plant, it likes warm and moist climate. It may be grown in full sun exposure or partially shaded area. Needs 6 to 7 hours of direct sunlight. Well-drained acidic soil of ph. 4.6 -6.0 is needed. Pruning needed only in raining season. You may regularly water the plants but no overwatering—maximum height of -8 feet.
Bougainville– Cinderella of our backyard.
They are natural climber shrubs with long canes. These vines need 12 to 16 weeks to grow. They require full 5 hours of sun exposure, well-drained rich soil and plenty of water while blooming. Height- 20 feet.
Never be afraid of gardening; we are always there to help you. Planting one tree saves 100 living beings.